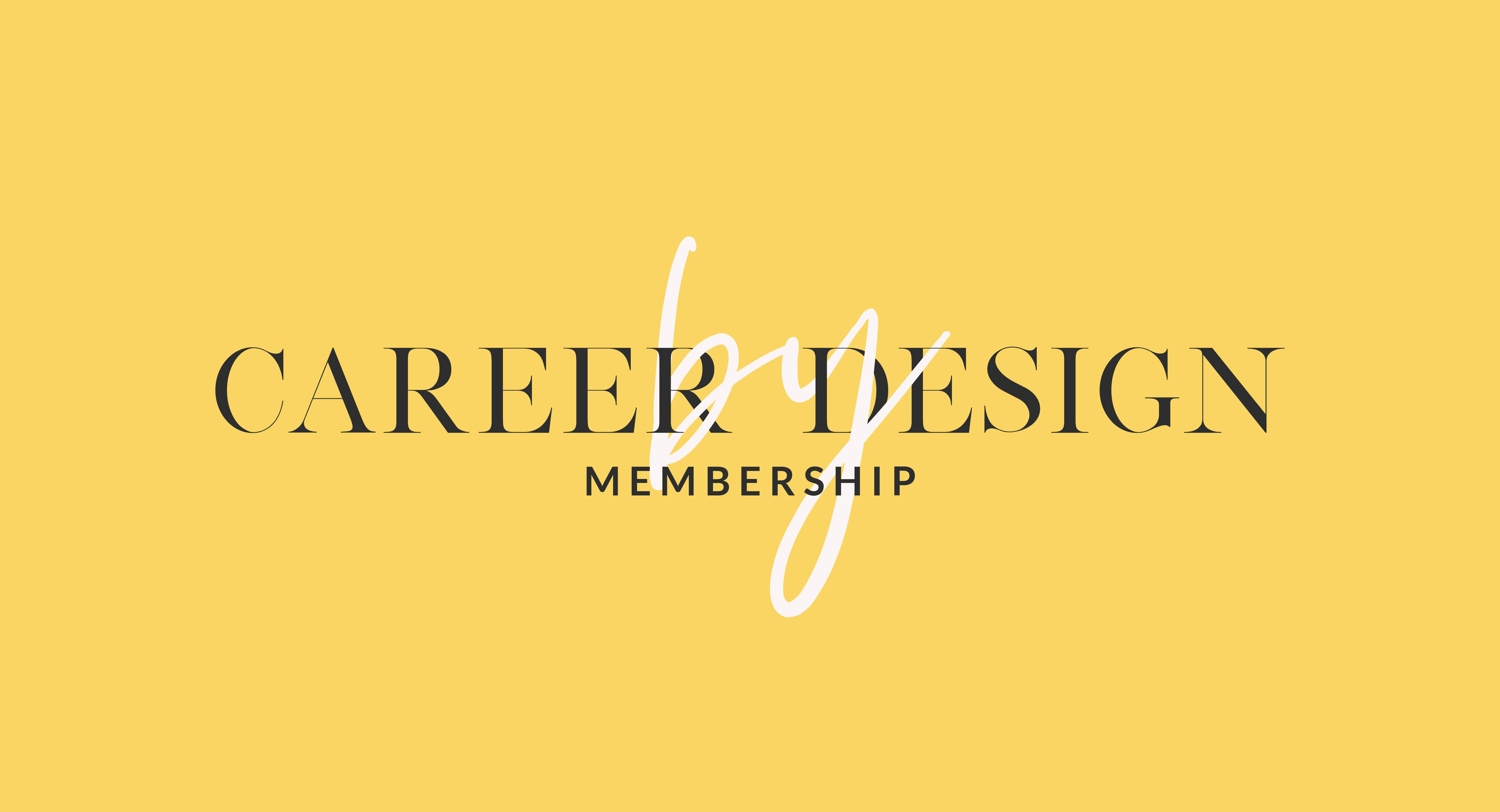 The Career By Design Membership
You have the power to up-level your career...starting right now!
Are you a student or new practitioner ready to up-level your skills so you can enjoy the career of your dreams?
My name is Ashlee and I am a career and interview expert who has coached thousands of professionals to thrive, starting with defining their brand, polishing their resume, and developing the confidence (with strategy) to make your biggest career aspirations come true.
Every single day I have professionals asking me frequently asked questions surrounding their careers.
Everything between how to optimize their LinkedIn profile to how to stand out during a networking session to how to know when to say yes or no to a new job. Or even more tricky questions, such as "How do I navigate a difficult coworker or my destructive boss?" or "How do I prepare for a second round of in-person interviews?"
What is absolutely eye opening about these statements is that the people who reach out to me are not qualifications specific. They range from students to high level executives to entrepreneurs and CEO's. Although my background is in pharmacy, it is also not pharmacy centric either. I get the same exact questions from professors, entrepreneurs, architects, lawyers, physicians, economists, actors, nurses, and screenwriters.
So, it has got me thinking for the last few months - How can I directly support more people? How can I make a bigger influence in my immediate close circle of colleagues and friends?
How can I support YOU to reach your highest level of success in your career no matter the years under your belt, the certifications on your CV, or the letters after your name.
And I AM SO EXCITED TO SHARE WITH YOU, a culmination of a lifetime of studying, teaching, and working on specific ways on how to elevate your career…
(drumroll please…)
The Career By Design Membership
So, tell me the skinny - What will we be covering in this membership?
Strategize, teach, and support you through the "how to" of marketing yourself, building your personal brand, and providing you tools on how to stand out in a competitive market place
Ensure that you have the complete courage (and confidence!) to beat the discomfort, fear, and "Imposter Syndrome" that hold so many back. I want to see you elevate, create, and move forward in your career (and life!) in ways you may never thought were possible
Build clarity in your career (and life, #YOLO!) and carve out specific intentions and tools with what your next steps in leveling up your career
Specific logistics of the membership:
Each month we will focus on a specific area in career development, and the further along we get, the closer you will be launching (and continuously growing!) your personal brand. And, as you might be aware, a strong personal brand leads to: more job opportunities, more promotions, more clarity, LESS work, LESS commitments, and, most importantly, a HAPPIER life!
Two, 90-minute Q&A/Group Coaching Sessions, which begin with a laser-focused career-building Teaching Segment, and follow with coaching you & the group on your specific questions

All calls are recorded if you can't make it. Questions can be submitted in advance.

One Featured Guest Expert Each Month for Q&A regarding their own area of expertise
Career-Boosting Templates, Outlines, and Members-Only Content to ensure you are on track for reaching your highest level of success in your career ·
Exclusive Career by Design Facebook Forum, to connect with like-minded community, share wins, grow lasting friendships, and ask and answer questions with high-level peers. Think of this like your own personal "think tank". Take advantage of this group so you don't need to feel alone in your career ever again!
This is my promise to you: this stuff WORKS.
I've worked with thousands of people using these strategies, so I am confident if you follow the steps, you WILL build clarity in your career (and life!) while simultaneously stand out in a competitive marketplace.
Each month our group Q&A/coaching sessions will occur on:
1st Thursday of each month at 3pmPST/6pmEST.
3rd Thursday of each month at 12pmPST/3pmEST.
I am sharing this with you because if you're eager to LEVEL UP your career, looking to have employers chase after you, searching for the wider purpose in your profession, and committed to having a GREATER impact in your career, I'd like to invite you to join me on this journey and become a founding member.
Ready to join a support system dedicated to helping you and your career thrive-- by design??
See you on the inside!
X,
Ashlee